No matter the State or Federal regulations your FinTech must abide by, or lack there of, protecting your user's data is vital. As attacks increase each day and cybercriminals become more and more advanced, it's never been more important for FinTechs to take a proactive stance to IT security.
Are you certain your FinTech is protected?
FinCISO is a FinTech-specific, all-encompassing virtual CISO solution that includes Rivial's integrated software platform and expertly managed cybersecurity services to help you take command of your company's data security.
Rate Your IT Security Program:
FinTech Cybersecurity Blueprint
Score your IT security program with Rivial's free online CYBERSECURITY BLUEPRINT. This digital module allows you to assess your FinTech's security program section by section to see exactly where your strengths and weaknesses lie. Use your results to report to your stakeholders or to help mold your cybersecurity program.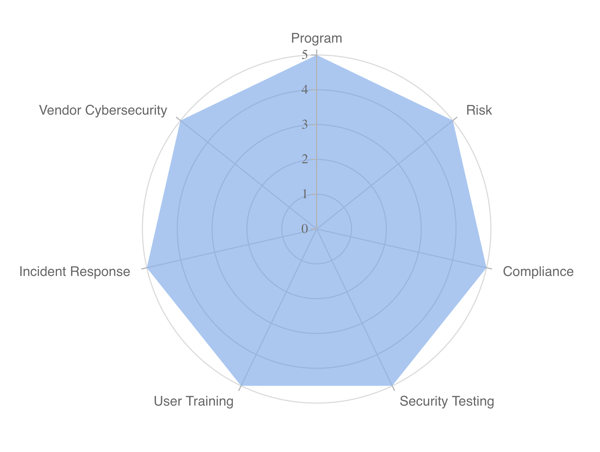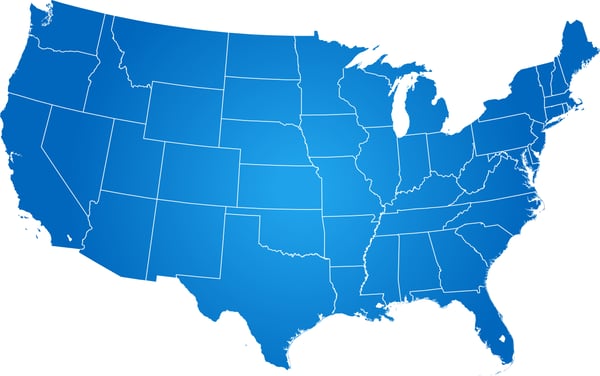 Rivial Data Security has been ahead of the cybersecurity curve for more than a decade in the financial IT security space. Our unique solutions have often been imitated, but of course, never duplicated. We work with clients from coast to coast and understand the complexities of differing regulations from state to state.
Rivial Data Security not only delivers certainty with elite and integrated FinTech cybersecurity, but we will help you navigate the ever-changing regulatory landscape with our finCISO solution.

YOUR TRUE CYBERSECURITY PARTNER
A cybersecurity solution is only as good as the team behind it and that's how we know we have the best in the industry. Rivial doesn't use the phrase 'customer service' because we don't think of you as a 'customer' or separate entity. We're all on the same team with the same goals.
We don't want to be your vendor, we want to be your partner.
With FinCISO, you will have a new, intelligently crafted hub for your cybersecurity activities.
Access all your reports

Check statuses

Maintain your security calendar

Automate and track processes and information that would take days to input manually
Assign tasks and monitor progress quickly and easily
Mobile-optimized for information anywhere
All your spreadsheets and word documents in one place, integrated into your program to be used to make valuable, actionable decisions
Use the Platform with or without Rivial's cybersecurity services.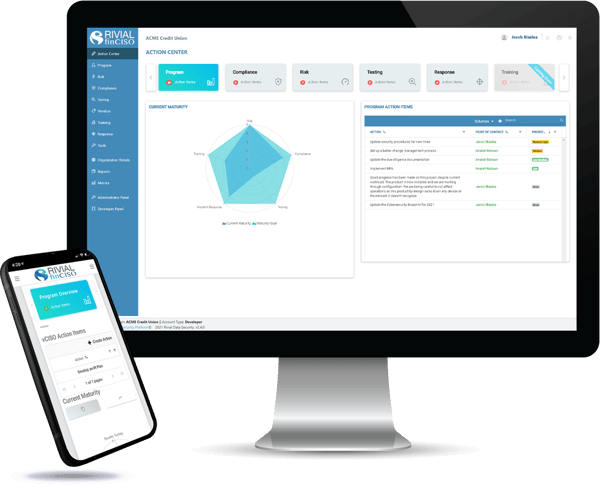 FinTech Cybersecurity Regulations
The FinTech industry is not yet highly regulated, but that should not stop you from taking a proactive cybersecurity approach. It certainly doesn't stop the cybercriminals from targeting FinTechs. The worst position to be in is explaining to your customers you had a breach, instead be transparent in the extra steps you take to keep their information secure. Show them you are Rivial Secured.
Our Rivial experts will help you to customize your FinCISO solution with the options below. Items marked with an * denote solutions Rivial deems essential.
Program Management*
Not only will Rivial develop the security plan and direction for your FinTech, but we also execute and monitor your cybersecurity according to your custom FinCISO solution.
IT Risk Assessment*
Rivial's IT Risk Assessment uses a one-of-a-kind
methodology that gives a holistic look at your IT Risk
and data protection needs
. Or take the next step with Rivial's Real-Time Risk,
365 days of risk monitoring and better decision-making with tools that give you actual dollar values to measure return on investment.
IT Audit*
A traditional one-time IT Audit or upgrade to Continuous Compliance. A solution that smooths out the workload of collecting evidence, removes the dreaded annual interrogation by an auditor, and improves security by notifying you when a control isn't operating effectively within weeks, not once a year.
User Training*
It only takes one team member's lapse in judgement to have company-wide repercussions. Humans are quite often the weakest link that cybercriminals seek to take advantage of. Keep your team aware of the latest social engineering trends, and teach the best
IT
practices to prevent targeted attacks.
Vendor Cybersecurity*
Most FinTechs are using third parties to move and store data. Reduce your risk by conducting vendor cybersecurity assessments to prevent third party breaches.
Schedule a Free Strategy Session with our Experts
We want to learn more about you. This is a no pressure to buy, 20 minute call just to get familiar with each other.