FFIEC Cybersecurity Assessment Tool & Automated Cybersecurity Examination Tool
2015 - CAT

The Federal Financial Institutions Examination Council (FFIEC) developed the Cybersecurity Assessment Tool (CAT Assessment) to help institutions identify their risks and determine their cybersecurity preparedness.

2017 - ACET

The Credit Union National Association (CUNA) released the Automated Cybersecurity Examination Tool (ACET) to mirror the FFIEC's CAT. Just like the FFIEC's Tool, ACET IT assessments consist of two parts: the Inherent Risk Profile and the Cybersecurity Maturity level.

2021 - Partner with the Experts

These assessments are intended to provide repeatable and measurable processes for financial institutions to measure their cybersecurity preparedness. However, completing these assessments can be challenging and time-consuming, especially when conducting them for the first time.
What to Expect
Complete Required Annual CAT Self-Assessment
Overall Compliance Reporting
Priority Based Recommendations
Efficient Third-Party Independent Audit
Inherent Risk Profile Updates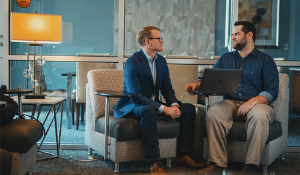 "The assessment Rivial did for us provided a ton of value. We were given a well-organized, high-quality report that spoke clearly to our Board and outlined technical details later in the document. Our examiners appreciated the thorough work that was done and the reporting format. I enjoyed working with Rivial and plan to do so again in the future."
You Might Be Interested In...