SOCIAL ENGINEERING TESTING
An Educated Team Is Your Best Defense
Social Engineering IT Security
Manipulating someone into acting inappropriately is much easier than sneaking past a firewall, and hackers are capitalizing on it. Over 80% of security breaches involve social engineering, which is the use of deception to manipulate individuals into divulging information that they shouldn't. Because of this, it is necessary for us to test our employees and see where, or who, our weaknesses are. Rivial's social engineering testing uses a mix of custom phishing email and website combinations, phone calls, and in person physical testing to see who is vulnerable.
The Rivial Approach
Custom Email Phishing Campaign and Website Creation
Social Engineering Phone Calls
Physical Security Testing
Ongoing Phishing Campaigns
Reporting on Risky Employees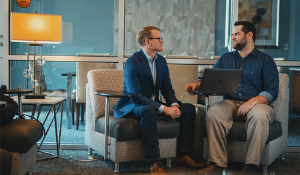 "Rivial uses a very collaborative approach. The recommendations from their audits and assessments are valuable and actionable. Not the pedantic sort we have seen from other firms."